BY THE TIME POLLS CLOSE SATURDAY, tens of thousands of voters in marginal seats will have received 'election scorecards' from environment groups.
Almost all will rate the Liberal Party worse than Labor or the Greens on a range of issues, from protecting the Great Barrier Reef to encouraging investment in clean energy.
Privately, some Liberal candidates will be seething — and, if the Coalition wins, they'll have the means for brutal revenge.
In March 2015, the Abbott government launched an Inquiry into the Register of Environmental Organisations (REO), which lists about 600 environment groups eligible to receive tax-deductible donations. The inquiry's report, tabled in May this year, makes recommendations that would hobble the campaigning activities of these groups — especially any that oppose large coal or gas projects.
One recommendation limits political advocacy by requiring environment organisations to spend 25 per cent of their money on 'remediation' work like planting trees. Another suggests 'sanctions', such as the loss of tax-deductible status, if a group encourages, supports or even endorses protest blockades and other acts of civil disobedience.
Taken together, the message is clear: environment organisations should focus on cleaning up after destructive projects, not on stopping them happening in the first place. Instead of standing in the way of a bulldozer, they should obediently step aside and plant trees in its wake.
For groups that rely on tax-deductible donations for the bulk of their funding, the effect would be chilling: either abandon successful and proven tactics, or lose vital income.
So what's behind these suggested changes? They're mainly driven by hard-right conservative MPs in seats where environment organisations have protested against coal mining or logging.
Liberal MP Andrew Nikolic is furious at the downfall of the forestry industry in his home state of Tasmania, while Nationals MP George Christensen and Senator Matthew Canavan are fuming over the strategic delay of mega-mines in Queensland.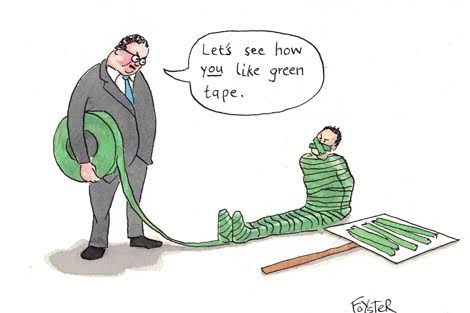 Nikolic and Canavan wrote lengthy submissions to the inquiry, which was originally chaired by Liberal MP Alex Hawke. Christensen, who has called green activists 'the greatest terrorism threat in North Queensland', was on the inquiry committee. Early in the public hearings he tweeted: 'evidence points to them losing their tax deductibility status'. And as dissenting Labor committee members noted, the inquiry report's controversial recommendations relied heavily on the submission of Senator Matthew Canavan 'in preference to expert views'.
These politicians are angry because the environment movement has hampered big fossil fuel developments such as the Indian company Adani's massive Carmichael coal mine, following a strategy leaked to The Australian. When Attorney General George Brandis says environment groups are using the courts for 'lawfare', this is mainly what he's so incensed about.
If Tony Abbott were still leader, the Coalition might have already used the REO inquiry report to cripple the advocacy work of environment organisations. But Malcolm Turnbull, cautious to distance himself from the heavy-handed approach of his predecessor, hasn't responded. Nor has Environment Minister Greg Hunt, who is ultimately responsible for the register, and probably still has the REO inquiry report sitting on his desk.
After the election, the political costs of a crack-down will diminish. If the Coalition wins, there'll be massive pressure from conservative MPs to retaliate against the environment movement. They'll have plenty of fresh exhibits to draw upon. Far from being tamed at the threat to their funding, environment organisations have been more brazen than ever this election.
The most blatant example is 350.org Australia, which has published damaging and personal profiles of 30 conservative MPs it says are 'climate blockers'. 350.org can take the risk because it doesn't have tax-deductible status to begin with. But many climate change groups that do have this status are campaigning hard in marginal electorates, using the same tactics normally associated with unions and political parties — door knocking, face to face street stalls and volunteers at polling booths. The Australian Conservation Foundation, usually more risk-averse than the radical fringe groups, has been bold enough to put politicians' faces on massive mobile billboards in key electorates.
It's part of a trend across the movement towards grassroots 'community organising', based on the model of progressive campaigns in the US. Many conservative MPs will interpret these tactics as 'too political', even though the High Court has recognised that advocating for policy change is a legitimate charitable purpose in a representative democracy.
Early in the election campaign, Age political journalist Heath Aston had this to say about the environment movement: 'The sector has been so effective that the Abbott government, spurred on by the mining and gas lobby, began the process of stripping them of charitable status in a bid to dent their resources. The sector as a whole has been relatively quiet since Malcolm Turnbull took the leadership and put the Coalition's crusade against green groups on ice …'
Not anymore. Environment organisations have stuck their necks out. If the Coalition wins, they'll be in for the fight of their lives.